2nd National Meeting of the Analysis to Benefit Children through National Survey Data (ABCD)
USC School of Social Work Child Development and Children's Services Research Cluster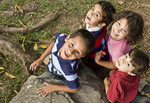 Dates
Thursday

May 24, 2012

9:00am to 5:00pm

Friday

May 25, 2012

9:00am to 5:00pm
Location
University Park Campus
Davidson Conference Center
3415 S. Figueroa St.
Los Angeles, CA 90089
Details
The Analysis to Benefit Children through National Survey Data is a national meeting of researchers and community stakeholders focused on the utilization of The National Survey of Child and Adolescent Well-Being (NSCAW) to understand the impact of child welfare involvement on child well-being.
Participants will receive an overview of NSCAW, technical support and expert consultation on research ideas.
Note correct times:
May 24, 9 a.m. to 5 p.m.
May 25, 9 a.m. to 1 p.m.
Individuals interested in participating in this meeting are asked to submit a brief research strategy (no more than 400 words) describing how they would like to use NSCAW data to support their specific research questions related to child well-being. Research strategies should be submitted to Dorian Traube (traube@usc.edu) by May 7.
NSCAW is the first national longitudinal probability study of children involved in child welfare services (CWS) investigations. This publicly available data set is a rich resource for researchers in child welfare, child maltreatment, child development, children's services and other related fields. More information about NSCAW can be found on the Administration for Children and Families website.
News & Events
Event Categories