California Social Work Hall of Distinction 2011 Induction and Reception
USC School of Social Work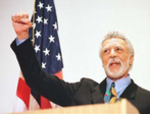 Dates
Saturday

October 29, 2011

5:00pm to 7:30pm
Location
San Francisco Airport Marriott
Bayside Ballroom
1800 Old Bayshore Highway
Burlingame
CA
94010
Details
A new crop of social work leaders, innovators and pioneers are recognized for their lifetime achievements to better society, preserving their legacies for future generations.
Honorees include:
Richard Masato Aoki, counselor, instructor, administrator and influential political activist who dedicated his life to his beliefs and the struggle for human rights
Ronald V. Dellums, former U.S. congressional representative from California, Ninth District, and mayor of Oakland, who earned his master's degree in social work from UC Berkeley
Herman Gallegos, a pioneer for civil rights for Latinos and other minority groups who held leadership positions in a wide range of philanthropic and civic activities, and was co-founder of the national Community Service Organization with Cesar Chavez
Ed Nathan, former faculty member at UC Berkeley and executive director of the Zellerbach Family Foundation, and one of the nation's most innovative philanthropic grant-makers, whose efforts were pivotal in the creation of the California Social Work Education Center
Janice Kay O'Donnell, who brought professional social work services to northern — especially rural — California in the areas of education and social welfare outreach
Kermit T. Wiltse, a social work practitioner, educator, administrator and researcher devoted to improving the lives of disadvantaged children and families

The California Social Work Hall of Distinction operates under the auspices of the California Social Welfare Archives at the USC School of Social Work and was created to honor the state's most accomplished and extraordinary social workers.

The evening begins with a reception, which will be followed by the induction ceremony. Email cswa@usc.edu to RSVP (by October 21) and for information on placing a tribute message to an honoree in the commemorative program (by October 14).
News & Events
Event Categories