Seventh International Conference on Social Work in Health and Mental Health
Research to Practice: Completing the Circle
USC School of Social Work, Los Angeles County Department of Mental Health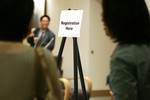 Dates
Sunday

June 23, 2013

12:00am to 12:00am

Monday

June 24, 2013

12:00am to 12:00am

Tuesday

June 25, 2013

12:00am to 12:00am

Wednesday

June 26, 2013

12:00am to 12:00am

Thursday

June 27, 2013

12:00am to 12:00am
Location
Ronald Tutor Campus Center
Details
This conference will explore ground-breaking research and innovative practices in the fields of health and mental health in relation to social work.
Topics to be discussed include client-based practice, integrated service settings, diversity, destigmatization, social policy, health equity and evidence-based practice. One day will be dedicated to community field visits, which will provide participants an opportunity to observe innovative social work practice in health and mental health settings across the Greater Los Angeles metropolitan area.
Registration will open in October 2012.
Early bird rate (October 2012 to January 15, 2013): $650
Pre-registration rate (January 16, 2013 to March 30, 2013): $700
Standard rate (April 1, 2013 to June 22, 2013): $750
On-site registration: $800
Student rate: $300 in advance, $350 on site
News & Events
Event Categories