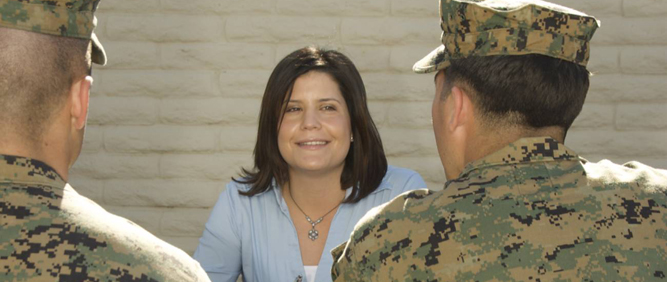 Military Social Work and Veteran Services
Many veterans suffer serious mental health disorders ranging from post-traumatic stress, anxiety and depression, which can lead to substance abuse, domestic violence, child abuse and suicide, and have devastating effects on families. This specialized area of study prepares individuals to provide a full range of human services to the nation's military personnel, veterans and their families, helping them cope with the stresses of military life, including managing prolonged deployments and transitioning back into a home environment. Coursework culminates in a 600-hour internship at a military hospital, VA hospital, Vet Center or a military base school.

The school's Center for Innovation and Research on Veterans and Military Families is collaborating with the USC Institute for Creative Technologies on a new virtual reality module that will expand the ability of educators to train future military social workers. The virtual patient is an avatar-based simulation program designed to replicate the experiences of veterans exposed to combat stress and help prepare students to interact with real clients. The program is the first application of virtual reality in a social work setting and is expected to be used in USC School of Social Work classrooms within the next year. Students may also find opportunities to participate in the center's research initiatives that serve veterans and military families.