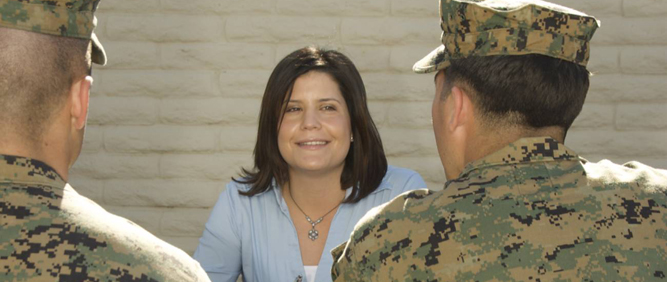 Military Social Work and Veteran Services
Many war veterans suffer serious mental health disorders ranging from post-traumatic stress, anxiety and depression, which can lead to substance abuse, domestic violence, child abuse and suicide. Military spouses and children also experience traumatic stresses during pre-deployment, deployment and reunion phases. The Military Social Work sub-concentration prepares students to care for service members, veterans and their families, helping them cope with the stresses of military life. In addition, students learn how to help community-based agencies identify and serve military populations in their community.

Field Placements
The military sub-concentration — which can be integrated with any of the school's concentration areas — provides a range of placement options for students interested in working with military personnel, military retirees, spouses and other military dependents. Students will complete 550 hours of an internship in one of the following approved settings: schools (early childhood through higher education programs), veteran courts, faith-based social service programs, state correctional facilities, community college vocational programs, older adults agencies, family service agencies, homeless shelters, drug and alcohol rehabilitation and counseling centers, hospitals, veteran services organizations, Salvation Army, VA outpatient centers, vocational rehabilitation centers, adult care facilities, hospices, community-based agencies, community mental health centers, psychiatric hospitals, university student counseling centers, military correction facilities, base/installation (only available for students residing on base), Veteran Affairs, vet centers and other approved community-based agencies serving military families and veterans. Practicum sites are based on the availability of the agency to accept a student and a field instructor to provide supervision; therefore, no guarantees are extended to students on a specific type of agency that would be arranged.

The Virtual Patient
The Virtual Patient – Staff Sergeant Alamar Castilla – is an avatar-based simulation program designed to replicate the behavior of veterans exposed to combat stress and to help prepare students to interact with real clients. Castilla, who has been programmed utilizing voice recognition technology and human voice recordings, can emulate the symptoms of a number of a clinical conditions, including depression and post-traumatic stress, and respond to a student's open-ended questions that might be used in therapy. The realistic role-playing allows students to hone their clinical skills. This first application of virtual reality in a social work setting was developed by the school's Center for Innovation and Research on Veterans and Military Families in partnership with the USC Institute for Creative Technologies.