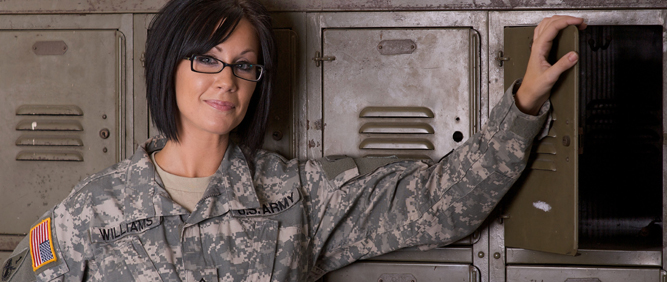 Sub-Concentrations
Military Social Work and Veteran Services
Many war veterans suffer serious mental health disorders ranging from post-traumatic stress, anxiety and depression, which can lead to substance abuse, domestic violence, child abuse and suicide. Military spouses and children also experience traumatic stresses during pre-deployment, deployment and reunion phases. The Military Social Work sub-concentration prepares students to care for service members, veterans and their families, helping them cope with the stresses of military life. In addition, students learn how to help community-based agencies identify and serve military populations in their community.
Field Placements
The military sub-concentration — which can be integrated with any of the concentration areas offered through the Virtual Academic Center — provides a range of placement options for students interested in working with military populations. Students will complete 550 clock hours of an internship in various approved settings. Practicum sites are based on the availability of the agency to accept a student and a field instructor to provide supervision; therefore, no guarantees are extended to students on a specific type of agency that would be arranged. Please note that only students residing on base are candidates for placement on base.

If a placement site does not serve a military population, the field experience will be supplemented with a mandatory Virtual Clinical Experience (VCE) in the online classroom. Students meet in small groups with a faculty member to work through simulated cases with military clients (played by actors). Students are supervised and given immediate feedback as they engage with the client.

Students in a non-military field practicum will also participate in an Internship with a Military Lens (IML). Supervised by a field instructor, students identify underserved military populations in their community and build capacity at their agency to provide services. With less than 50 percent of service members and their families served by the Veterans Health Administration, IML offers students a great opportunity to build unique and important services in their community.
The Virtual Patient
The Virtual Patient–Staff Sergeant Alamar Castilla–is an avatar-based simulation program designed to replicate the behavior of veterans exposed to combat stress and to help prepare students to interact with real clients. Castilla, who has been programmed utilizing voice recognition technology and human voice recordings, can emulate the symptoms of a number of a clinical conditions, including depression and post-traumatic stress, and respond to a student's open-ended questions that might be used in therapy. The realistic role-playing allows students to hone their clinical skills. This first application of virtual reality in a social work setting was developed by the school's Center for Innovation and Research on Veterans and Military Families in partnership with the USC Institute for Creative Technologies. 
Curriculum
642 Military Culture and the Workplace Environment
Students will examine the military from a variety of perspectives, including its background and organization, social systems, core values and traditions (norms for personal, familial, and social conduct; patterns of socialization; and gender roles), artifacts, language and socially acceptable practices.
641 Clinical Practice with Service Members and Veterans
This course addresses the needs of active duty, retired, and deployed servicemembers and veterans at different developmental phases of the military life course, both holistically and within the context of their families and communities. Military social work students will be prepared to facilitate clients with a range of physical, mental and psychosocial issues and understand their individual ways of coping. Students will learn to identify these concerns, along with the risk and protective factors associated with navigating deployment and combat stressors. Students will also learn to understand and apply evidence-based clinical approaches that address signature injuries. Managing transference/countertransference phenomena and attending to secondary trauma are central. Students will also learn to use the range of practice models in a phase-oriented approach that values the therapeutic relationship, cultural responsiveness and theoretical grounding.

640 Clinical Practice with the Military Family: Understanding and Intervening
The purpose of this course is to understand the military culture within which military families function; the stressors, such as deployment, they navigate; the diversity of military family structures; and how a range of diversity filters can impact the military family and military culture. Students will explore the different military contexts (i.e., active duty, guard/reserve and veteran), ethical issues of working in this environment, theory-based and research-informed strategies for interventions with military families, as well as critique military family policies and discuss family life cycle interactions amidst military demands.