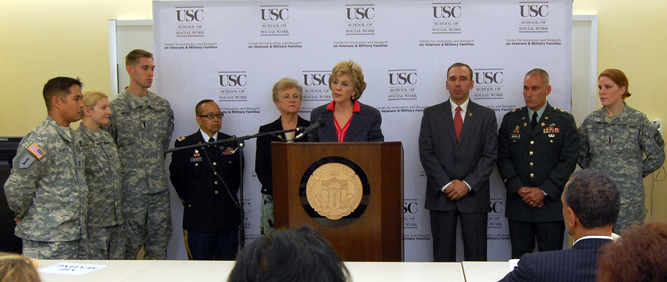 Centers & Affiliations
Established in 1979, the California Social Welfare Archives maintains one of the most extensive and complete collections of California social welfare history. The volunteer-based group collects, preserves and makes available historically significant information that documents the emergence of social problems and the development of social welfare answers in California. Primarily the historical records of health and social welfare organizations, as well as the personal papers and oral histories of prominent individuals, these materials serve as original sources for academic and community researchers and social policy analysts. CSWA conducts its activities under the auspices of the USC School of Social Work, with its collections housed in the Department of Special Collections in Doheny Memorial Library.
In a unique forum under the auspices of the USC School of Social Work and California Social Welfare Archives, the California Social Work Hall of Distinction was created in 2002 to honor the contributions of the state's social work leaders and pioneers and preserve their legacies for future generations. Credited with identifying a vision of how things could be better in their communities, these individuals helped shape social welfare with their actions and ability to inspire others. New nominees whose work is deemed of significant and lasting impact are inducted each year at the group's annual award luncheon.
The National Center for School Crisis and Bereavement was established to enhance the role of schools in supporting and caring for grieving students, staff and families in times of crisis and loss. Funded by New York Life Foundation, the center provides practical information, training materials and consultation services at no charge, enabling educators, principals, administrators, student support personnel, mental health providers and other professionals who work with grieving children and families to better understand childhood grief and learn best practices for addressing it at school.
The Randall Information Center is a digital information and training laboratory, offering academic and technological resources and services for students and faculty. Utilized for independent study, class lectures, training seminars and discussion groups, the multipurpose smart classroom space features 20 computer stations for easy access to the Internet, email and electronic research tools, including library databases and catalogues; a ceiling-mounted video/data projector with connections to a faculty teaching station; a duplex printing station free to social work students and small group breakout rooms. The center is a joint venture with the university library system, enabling seamless access to a wealth of print and electronic resources. The center is open Monday through Friday from 8 a.m. – 6 p.m.
Launched in 2005, the Center for Asian-Pacific Leadership promotes an understanding of the social, economic and political challenges facing Asia, including economic development, social welfare, public policy, empowerment of women and governance. The center capitalizes on the academic excellence of USC to create inspiring educational opportunities for emerging leaders that are designed to improve cross-cultural communication and nurture mutual cooperation among professionals of different cultures.
The USC Center for Innovation and Research on Veterans and Military Families (CIR) offers innovative education and training platforms, leading research and partnerships that improve the capacity and competency of mental health providers to effectively address the needs of wounded warriors and their families. The center, with its partner USC Institute of Creative Technologies, has harnessed revolutionary technology to create virtual humans (avatars) that are programmed to replicate the experiences of veterans exposed to combat stress. These virtual reality simulations help prepare students for interacting with real clients. The center is also actively engaged in research initiatives that can be readily adapted by community organizations serving veterans and military families, as well as developing continuing education opportunities through online certificate programs.
The Center for Work & Family Life is a service provided for USC faculty, staff and their families to help preserve a healthy balance between their personal and professional lives. Services include solution-focused individual, couples or family counseling; departmental consultation to improve management and leadership effectiveness and workgroup dynamics; family and dependent care resources; health and wellness initiatives; and relocation assistance. Services are always free, voluntary and confidential.
The Roybal Institute advances research whose goal is to enhance optimal aging for persons in minority and low-income communities. It maintains a strong interdisciplinary focus, with collaborations among faculty and professionals in such fields as gerontology, psychology, preventive medicine, family medicine, psychiatry, oncology, American studies and ethnicity, and public policy. The institute builds upon USC's longstanding tradition of creating socially relevant research, innovating educational practices, influencing policymaking, fostering community-university partnerships and sharing best practices with direct service providers.