Governor's Office of Planning and Research (OPR), Governor's Office of Business and Economic Development (GO-Biz), the California Energy Commission (CEC), Air Resources Board (ARB), and Tecdonor
Dates
Wednesday

April 26, 2017

9:00am to 5:00pm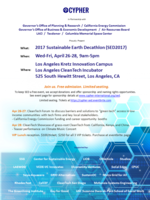 Location
Los Angeles Kretz Innovation Campus
525 South Hewitt Street
Los Angeles, CA 90013
Details
The USC Suzanne Dworak-Peck School of Social Work would like to invite you to visit the 2017 Sustainable Earth Decathlon (SED2017), a joint project with the Governor's Office of Planning and Research (OPR), Governor's Office of Business and Economic Development (GO-Biz), the California Energy Commission (CEC), Air Resources Board (ARB), and Tecdonor.

SED2017 demonstrates the vital role of social work in harnessing technology for social good, an AASWSW Grand Challenge. SED2017 is a participating event in Columbia Memorial Space Center's 2017 City of STEM program.
Conscious Youth Promoting Health Environmental Resilience (CYPHER) is an incubator for grass-root CleanTech in developing and least developed places. CYPHER focuses on innovations at the nexus of food, energy, and water system (INFEWS) because of their cross-cutting relationship with human and planetary health. In Ventura County, CYPHER is planning on developing a biotech incubation facility. The group also works with schools and youth-serving organizations in California, China, and Kenya to shift the identity of underserved youth from non-tech innovator to tech innovator.

The three-day event begins on Wednesday April 26th and will feature activities every day from 9 a.m. to 5 p.m.

On April 26th and 27th, a CleanTech Forum will discuss barriers and solutions to green tech access in low income communities with tech firms and key local stakeholders. The California Energy Commission will also have green tech funding and career opportunity booths.

April 28th will feature a CleanTech Showcase of grass-root CleanTech from California, Kenya, and China and a teaser performance on Climate Music Concert courtesy of Rhodes Fest.

During lunch on all three days, there will be a VIP reception open to just 15 forum attendees. Tickets can be purchased for $100 through the eventbrite page and will feature an exclusive opportunity to mingle with founders of tech firms in renewable energy, green transportation, and smart building and key green tech and workforce development stakeholders from the local and state levels.

For more information about CYPHER, visit their website at www.cypher-international.org.

Seating is limited. To reserve tickets, visit https://cypher-sed.eventbrite.com.