Unspoken: Addressing Power Dynamics in Field Instruction
Los Angeles Field Consortium
Dates
Friday

February 15, 2013

8:30am to 12:00pm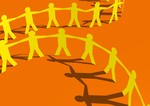 Location
The California Endowment
1000 N. Alameda St.
Los Angeles, CA 90012
Details
The Joint Symposium is a networking opportunity designed to assist field instructors at all levels of experience to enhance their abilities to foster growth in social work students. This will be a lively, interactive session focused on addressing the power dynamics in field instruction.
The symposium is only open to current social work field instructors.
Parking is free and the event is metro accessible.
For additional information or to RSVP, please contact: Kim Setterlund at (626) 857-2401 or ksetterlund@apu.edu.