Human Dignity: How Poverty Affects Human Rights
USC Dworak-Peck School of Social Work
Dates
Wednesday

February 15, 2017

9:00am to 12:00pm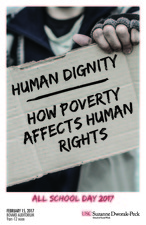 Location
USC Dworak-Peck School of Social Work
669 W 34th St
Los Angeles, CA 90089
Details
As social workers, we have a unique role to play in helping to eradicate poverty and ultimately restore the rights of people worldwide. Understanding the importance of this issue, the USC Suzanne Dworak-Peck School of Social Work is leading a conversation on poverty and its effect on human rights by hosting an open dialogue at this year's All School Day (ASD).
The event will feature expert speakers and panelists who will facilitate discussion, propose solutions, and answer questions on the issue. USC will also open this discussion to the general public to provide a platform for meaningful conversation about poverty as a human rights issue.
Featured speakers include: Lucy Williams, Professor of Law at the Northeastern University School of Law and nationally recognized authority on welfare law and low-wage labor; Amy Ziering, a two-time Emmy Award-winning and Academy Award-nominated filmmaker and Emmy-winning investigative journalist; Alicia Cass, MSW, a graduate and current doctoral student at the University of Southern California and founder of The Metamorphosis Experience, "ME," a nonprofit that helps women, girls and youth overcome the obstacles; Neils Frenzen, a director of the USC Gould School of Law Immigration Clinic and former directing attorney of the Immigrants' Rights Project at Public Counsel in Los Angeles; and Pamela Pimentel, RN, Chief Executive Officer of MOMS Orange County, a nonprofit whose mission is to help families have healthy babies.
The USC Suzanne Dworak-Peck School of Social Work's annual All School Day event began after the civil unrest of the Los Angeles riots in 1992 that were compounded by existing racial tensions. Since then, students, faculty members and community leaders have gathered each year to celebrate diversity through an exchange of ideas and to learn how to better communicate despite differences in race, gender, sexual orientation, religion, age, social class and disability.
Students will attend the event on campus, while MSW@USC students and the general public are invited to live stream the event beginning at 9 a.m. PST on February 15.
Anyone can join the #ASD17 tweet chat by following @uscsocialwork and @MSWatUSC. Or, you can submit questions online for the speakers and panel using this form: [LINK].
Having Trouble with the Live Stream? Please clear your cache and history and log in again to your browser.
Other troubleshooting techniques:
Try using another browser. Log in via an incognito window. Ensure you have a strong internet connection.