Dates
Wednesday

May 3, 2017

8:30am to 2:00pm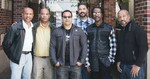 Contact
Dr. Anne Katz, USC Edward R. Roybal Institute on Aging
Details
A crisis is looming in our prisons due to the rapidly aging prison population. Prison facilities are not geared to accommodate the needs of the aging, who are prone to predation and humiliation with the natural slowdown of physical mobility and cognitive processes. This symposium will promote awareness, highlight existing model programs and bring stakeholders together to exchange knowledge and ideas about addressing the health needs of an aging incarcerated population.
For the most updated event information, please visit: http://roybal.usc.edu/goldcare.
RSVP online at usc.edu/esvp (code: goldcare)
RSVP deadline: April 26, 2017
Space is limited.
Contact Information: Dr. Anne Katz (akatz@usc.edu)
Parking Information: Please enter campus through Gate 4 located on Jefferson Boulevard across from the Shrine Auditorium. Parking on campus is currently $12.