USC School of Social Work and Sol Price School of Public Policy
Dates
Thursday

November 7, 2013

5:00pm to 8:00pm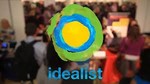 Location
Tutor Center Ballroom
3607 Trousdale Parkway
Los Angeles, California 90089
Details
If you're considering grad school, you need to come to the Idealist Grad Fair. Co-hosted by the USC School of Social Work and Sol Price School of Public Policy, the Idealist Grad Fair brings together 110 graduate schools with programs in social work, public policy, nonprofit management, international affairs, public interest law, social entrepreneurship and more. Local, national and international universties are all represented to fit whatever program interests you.
The program is free. For more information click here. Or watch a video of last year's fair.
All people arriving on campus before 5 p.m. are encouraged to park in Lot 2 near the Radisson Hotel off Figueroa Boulevard, or the East Shrine Lot (see map: http://web-app.usc.edu/maps/map.pdf). Parking passes are $10. If you arrive after 5 p.m., you should be able to park in any of the lots on campus.

We strongly encourage taking public transportation. There are two stops at the University Park campus on the Metro Expo Line.

Check-in will be on Trousdale Parkway in front of Moreton Fig restaurant, adjacent to Tommy Trojan.