California Psych Resources
Dates
Sunday

March 17, 2013

2:00pm to 5:30pm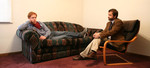 Location
Secret Rose Theatre
11246 Magnolia Blvd
Los Angeles, CA 91601
Cost
$20 special rate (use discount code SUNDAY)
Details
"Therapy," a play written and directed by Jeff Bernhardt, MSW '94, is a drama about three therapists and the patient who changes them. Steven, Moira and Sandra are three therapists -- each with his or her own therapeutic style. When Lance comes to Steven as a new client for all the wrong reasons, the emotional rollercoaster ride begins, complete with unexpected connections and relationships. It is about what happens when the professional and personal worlds crash into one another, especially for the very people whose job is to keep them separate. The play stars Lynn Ann Leveridge, Marcie Lynn Ross, Luis Selgas and Jed Sura.
This performance will be followed by a Q&A with the cast and writer/director Bernhardt, who is a writer, educator, licensed clinical social worker and Jewish communal professional. His book, On Sacred Ground: Jewish and Christian Clergy Reflect on Transformative Passages from the Five Books of Moses, was published in 2012. His play "Mixed Blessings" had its premiere in Los Angeles in January 2010.
This is a special discounted rate for this performance only. Tickets must be purchased in advance, as there is limited seating. Dates and prices for other performances can be found at http://www.brownpapertickets.com/event/322663.
For LCSWs and MFTs, there are three CEUs available for an additional $12. Sign up at will call on the day of the performance.
Sponsor California Psych Resources, a BBS-approved provider, was founded by Robin Siegal, LCSW. Siegal, an adjunct lecturer at the School of Social Work, started the organization to create something different in continuing education with unique forms of training that professionals would be excited to participate in.