Global and Intercultural Perspectives on Social Challenges, Solutions and Engagement in Europe
Primarily based in Amsterdam in the Netherlands, but will also include visits to London, England and Brussels, Belgium.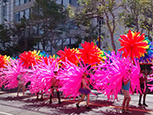 The European intercultural immersion course addresses social challenges from a global, cross-cultural and interdisciplinary perspective. The course is especially focused on interesting ways in which sexual orientation, gender, ethnicity and other cultural factors intersect with one another in various global contexts and how these factors contribute to the development of social challenges and their solutions. Ultimately, the course aims to enhance participants' ability to engage culturally diverse people and systems in social work practices that are both ethical and effective.
Entrepreneurship and Empowerment: Social Development in India
Mumbai, Pune and Jawhar, India.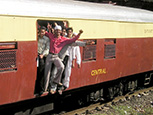 This three-week program demonstrates how community-based interventions can be effective tools in tackling social issues in India. Students participate in community development projects in urban and rural India to learn about social work at the micro, mezzo and macro levels. They visit social and small business enterprises and other entrepreneurial ventures focused on non-formal education, health and sanitation programs to better understand the global dimensions of social development and how grassroots efforts can create economic and social change, and empower communities to be self-sustainable. Please follow our experiences on the India Immersion Blog.
Social Conflict: Empowerment and Creative Practice in Israel.
Tel Aviv, Jerusalem and other locations in Israel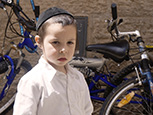 The Social Conflict, Empowerment and Creative Practice in Israel program provides students the opportunity to explore Israel in an intensive two-week immersion visit that will span various regions, sub-cultures and communities including urban and rural, Jewish and Arabic, and immigrants. Students will observe practice with a variety of client groups and in different social settings including schools, immigrant-absorption centers, prisons and community centers. They will engage in an open dialogue with Israeli social workers, multi-professional team members, community representatives and clients. In addition, they will be immersed in the social and cultural life of Israel through interaction with university faculty and students, as well as community groups in Israel.
Global Perspectives on Sexual Orientation, Gender and Ethnicity in Europe
Belgium, France, Germany and the Netherlands

Participants visit Belgium, France, Germany and the Netherlands to experience diversity firsthand within a European context and examine the ways sexual orientation, gender and ethnicity are approached differently in the United States and Europe. The two-week program consists of lectures; discussion panels; experiential and reflective exercises; group-based assignments; site visits to social service, community and human rights organizations; and cultural excursions. Additionally, participants can explore social action and social change strategies, and learn how European countries address oppression resulting from sexual orientation, gender and ethnicity.
The Eastern Approach to Successful Aging in China
Peking University and Beijing Normal University

Students explore issues faced by an aging population and experience how China is coping in a positive way. Utilizing China as a case study, the program provides intensive discussion and exposure to Chinese culture, helping students expand their knowledge of the country's political, economic, social and cultural forces, as well as gain a new perspective on healthy aging that may help them work with elderly populations in the United States, particularly those who have emigrated from Asian nations. In addition to studying social gerontology theories, the learning process includes daily interactions with Chinese students, faculty and community groups.
Feminist Theory, Social Action and Social Work
University of the Philippines, Dilliman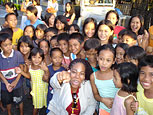 Focused on the feminist viewpoint in social work and its influence in facilitating social change, this seminar offers guest speakers on labor issues, land ownership, poverty, prostitution, legislative process and healthcare, in addition to field trips to such places as a women's prison, a peasant community and a red-light district. Journaling and completing a field research project supplement the educational experience for participants, who seek a more informed perspective of the political, economic, social and cultural forces shaping Filipino society and a new vantage point to work more effectively with Filipino immigrant clients.
Modern Day Slavery: Combating Human Trafficking in the Philippines
University of the Philippines, Metro Manila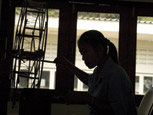 Human trafficking – the illegal trade of human beings for sexual exploitation or forced labor – is the fastest growing enterprise in the world. One of the undersides of globalization, human trafficking exists in at least 127 countries – places like the Philippines – where changing social and economic conditions have brought large numbers of people from rural areas into urban centers where they don't have jobs, and government corruption has turned a blind eye to the epidemic. Utilizing a comparative perspective, participants will explore social action and social change strategies the United States and the Philippines use to suppress human trafficking networks. Visits to governmental agencies, non-governmental organizations and other Filipina and international institutions will enlighten students how policy and social services are coordinated to curb human trafficking.
Social Work Practice in Latin America and the Caribbean
University of Puerto Rico

Drawing from the rich history and experience of the Puerto Rican people, students examine how diversity shapes the human experience and is critical to the formation of identity. During the three-week program, students increase their knowledge of diversity and social work practice by looking at issues such as race and identity, colonization and oppression, immigration/migration, environmental racism and other influences on health and well-being. Students are immersed in social and cultural interactions with students, faculty and alumni from the University of Puerto Rico and gain field experience at practice sites which include recovery systems of care, community organizing settings and ecological preservation sites.
Military Culture: U.S. Forces Abroad in Germany
Ramstein Air Base and Landstuhl Regional Medical Center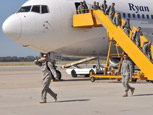 The three-week interactive learning program addresses the critical need for culturally competent behavioral healthcare providers who work with military veterans. Participants will spend one week in pre-departure sessions on the USC campus and at the Los Alamitos Army Airfield in California. The next two weeks will be spent at U.S. military installations in Germany, including Ramstein Air Base, Landstuhl Regional Medical Center, and Baumholder and Heidelberg U.S. Army garrisons. This experience will increase students' military fluency by helping to develop a deeper understanding of the systems of care that are in place for military personnel during deployment and the transition back at home. Students will also take part in several cultural excursions, including visits to the Luxembourg American Cemetery and Memorial, where Gen. George S. Patton is buried, and Strasbourg, France, a city at the crossroads of Europe that became a symbol of post-war European unity. Read a letter of appreciation from Lt. Gen. Mark Hertling on the implementation of this immersion program.