Researchers involved with the Homelessness, Housing, and Social Environment research cluster seek to investigate and develop interdisciplinary, scientific strategies to address complex issues involving the homeless population.
Specific goals include:
Improving the physical, behavioral and sexual health of people experiencing homelessness
Ameliorating homelessness through scientific research guided by an ecological framework that focuses on both individual and societal contexts
Supporting the translation of research into sustainable and comprehensive community-based interventions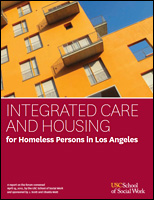 Policies have increasingly highlighted the need to eliminate homelessness and provide individualized services to those suffering from health problems related to homelessness. Given the diversity of this population—men, women, families, youth, veterans and nonveterans, short-term and chronically homeless individuals—research must have a similar multifaceted and multidisciplinary approach. The Homelessness cluster is designed to create a critical mass of energy, innovation and funding among investigators to conduct this type of research. Its focus on collaboration and support enables participants to interact across projects, community partners and other research cores, as well as other schools and institutions.