Wellness Program
The goal of the school's wellness program is to provide free wellness-related activities and information to the faculty and staff of the School of Social Work. Some current projects include walking groups, yoga and pilates group classes, a newsletter, a participation incentive program, healthy snack baskets and potlucks, USC Lyon Recreation Center discounts and much more.




Wellness Daily and Weekly Chanllenges

Daily Wellness Tips Email Archive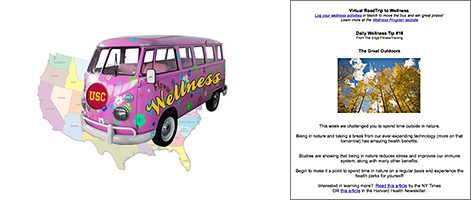 ---
Wellness Initiatives
Participation Incentive Program
For each school-sponsored or self-directed wellness activity you participate in, you can submit one entry to the wellness raffle. One winner is randomly selected on 1st and 16th. To participate in the raffle enter your name, email and wellness activity using our online Wellness Raffle form.
View photos from some of our recent wellness activities.
Wellness email list and Bits and Bytes (sowkwellness-l@usc.edu)
Join our wellness email list to receive program announcements and wellness events. Visit the USC Mailing Lists website to subscribe or unsubscribe. Read about wellness tips, stories and wellness events, programs and wellness-related information both on and off campus in the school's Bits and Bytes internal newsletter.
Yoga Group Classes
Classes are currently held at City Center. Please subscribe to the Wellness email list for dates and times.
Healthy Snack Baskets
Healthy snack options are available at UPC and City Center. There are baskets in MRF 201, SWC 217 and T300 and 14th floor reception area at City Center. The baskets provide a variety of fresh whole fruit. These baskets are replenished the first Monday of each month. Learn more about why fruit is vital to a healthy diet.
USC Lyon Recreation Center Discounts
This code is only valid for the early part of the fall semester, up to October 31
The School of Social Work has negotiated a 30% discount for UPC Lyon Recreation Center and HSC Fitness Center basic memberships and related services for all School of Social Work staff and faculty. This discount is in addition to the 40% discount that all USC faculty and staff already receive.
Special Social Work Discount Rates for 2013:
$49.00 Basic Membership (per semester)
$17.50 USC Workout (group exercise per semester)
$42.00 Locker - Full Length (includes towel service)
$28.00 Locker - Half Length (includes towel service)
$24.50 PED Indoor Pool
To receive this discounted membership, email for the current Social Work Wellness discount code. Then apply in person at the Lyon Center registration desk and show your USC ID and tell them the wellness discount code or online at the Recsports store. Please be aware use the code only once per person per year, either online or in person, so purchasing lockers and memberships together and an annual membership vs just a semester would be wise.
Wellness Resources
General Wellness
USC Healthy Trojans
Programs and resources related to physical wellness, emotional and social well-being, spirituality.
USC Center for Work and Family Life
Helping faculty, staff and their families find a healthy balance between work and personal life.
Wellness at Work Infographic
Informative facts and tips on wellness in the workplace created by the Public Health Institute and the American Public Health Association.
Music and Events