Marleen Wong MSW '71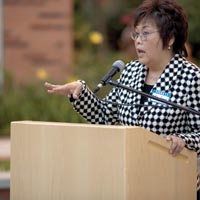 Dubbed by the Wall Street Journal as one of the architects of school-safety programs, Marleen Wong MSW '71 is a member of the first National Crisis Team, convened by the U.S. secretary of education to assist schools with crisis response after school shootings, natural disasters and acts of terrorism.
Over the past 30 years, she has provided training to representatives from thousands of schools and school districts throughout the United States and has lent her expertise to the recovery from a wide range of major crises, from the September 11, 2001, terrorist attacks and the Columbine school shootings to the 1992 civil unrest in Los Angeles and the sniper shootings in Washington, D.C. Internationally, she has advised teacher unions, and school and government officials on the effects of psychological trauma on schoolchildren and adults after devastating earthquakes in Kobe, Japan, and the Peoples' Republic of China.
Wong divides her time between directing the School Crisis and Intervention Unit of the National Center for Child Traumatic Stress at UCLA and Duke University and the Crisis Counseling and Intervention Services group of the Los Angeles Unified School District.
Of the preparation she received at the USC School of Social Work, she says: "I really value the teachers who took a personal interest in each and every one of us. They introduced us to different ways of thinking. Now when I go into a new situation, I try to use all the pieces of the puzzle that they showed us. This is the school that made me love social work."